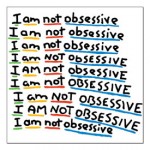 Dealing with OCD is not easy at all. You know it, and we know it too! The OCD warrior support group is waiting for you!
OCD strikes men and women equally and afflicts roughly 1 in 40 people. For most, the disorder began during their teens or early adulthood.
You're not alone in this struggle, OCD doesn't have to define who you are.
This OCD support group has one single goal: to prepare your for the most efficacious treatment for OCD: exposure response prevention (ERP). You will learn, in a very supportive meeting, how to be in charge of your life, instead of OCD running the show.
Starting date: January 23rd, 2017
Day/time: Monday, from 5:30 – 6:30 p.m.
If you're an ebbtc client, you can schedule right away by click here: OCD warrior group
If you're not an ebbtc client, you can give us a call at 925.956.4636