mind and emotions
are you dealing with depression, anxiety, anger, phobia, or worry?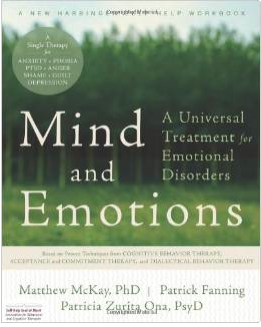 Table of Contents
The Universal Treatment
The Nature of Emotions
The Cost of Avoiding Emotions
Values in Action
Mindfulness and Emotion Awareness
Defusion
Cognitive Flexibility Training
Self-Soothing
Doing the Opposite
Interpersonal Effectiveness
Imagery-based Emotion Exposure
Situational Emotion Exposure
Relapse Prevention
Reading isn't enough to learn emotion regulation skills.  They can only be mastered by doing the actual exercises in this book, and putting them into practice in daily life.  The changes you seek with overwhelming emotions start with changes in your behavior—altering your old response is essential to creating a new life and a new relationship to your emotions.
We'll be with you every step of the way:  showing the path, coaching you, giving you examples of how others have succeeded.  We'll have answers to many of your questions, helpful strategies, and step-by-step guidance for how to get you there.  Working this book is work. we admit it.  But if you do the work and change your old avoidance patterns, a lot of your emotional pain will fall away.  It will just be a memory.  We encourage you to start now.  Begin the changes you've been yearning for!
Reviews (to be completed by Diana)
"Mind and Emotions offers a clear and practical entry into the complex and often confusing world of emotions and emotional pain. The authors are experts in the field of mental health and psychotherapy, and it shows in this work. Their accessible and easy-to-follow practices will empower and promote emotional healing for anyone who takes the time to work through this excellent program."
—Jeffrey Brantley, MD, consulting associate in the Duke Department of Psychiatry, author of Calming Your Anxious Mind, and coauthor of Daily Meditations for Calming Your Anxious Mind and the Five Good Minutes® series
reviews to be completed by Diana
"With compassion and clarity, the authors present a universal approach to the universal pain and suffering that accompanies mental health problems. Readers will find much in Mind and Emotions to calm the emotional storms that are barriers to living life fully and passionately."
—Michael A. Tompkins, PhD, San Francisco Bay Area Center for Cognitive Therapy and University of California, Berkeley, and author of Digging Out
reviews to be completed by Diana
"At last! Here's your chance to clear the clutter off your shelves and get rid of all those other self-help books that don't work. McKay, Fanning, and Zurita Ona have put together a single, effective treatment for multiple forms of emotional pain. Based on research and years of success, Mind and Emotions is sure to be the one book people will turn to for help."
—Jeffrey C. Wood, PsyD, clinical psychologist, coauthor of The Dialectical Behavior Therapy Skills Workbook, and author of The Cognitive Behavioral Therapy Skills Workbook for Personality Disorders
reviews to be completed by Diana
"I have suffered with chronic clinical depression since I was very young. As a teenager, I went through a traumatic event, and I was physically abused when I was married. As a result, I've been diagnosed with PTSD. I've been in therapy groups, seen psychiatrists and therapists. This book has helped discover a way to take ownership of my recovery in ways that I've never experienced before. In past, going over (and over and over and over) my past traumas and how I felt about them sometimes brought up a lot of uncomfortable emotions that I didn't handle very well, and I sought to "medicate" those raw feelings with food. I'm getting to understand the connectiions between my thoughts, emotions and my relationship with food, and "check in" with myself before I eat that homemade grilled double cheese sandwich. I'm not done reading and working through the all the exercises yet, but the results so far have been amazing. I'm not saying fire your therapist and/or psychiatrist. But this book has given me a way to get past my history, and actively change how I feel and think. I highly recommend it"
-Amazon reviewer, July 2013
reviews to be completed by Diana
"My group and our instructor are currently using this workbook to carefully understand our individual triggers, our emotional barriers and mindfulness techniques. This book is really insightful, and very easy to understand. The authors made sure to keep the language used in the book basic. I got lost in the medical terminology in most self-help books, this book is both refreshing and insightful."
-Amazon reviewer, September 2015